16v Tuning Guide
From THE Corrado Forum Knowledge Base
Air filter
Changing the standard air filter for a performance panel filter is a good step to increase the engines breathing although power increase will be minimal.
Cone filter induction kits cannot be fitted to the 16v golf and corrado type of injection, but you can drill holes in your air box on the wing side only, this will give you more induction noise and allow your filter to take in extra cold air.
Exhaust
It's a good idea to buy a stainless system as it will last a lot longer, and if you want to gain big power from your whole engine mods, its normally recommended you go for 2 ½" system rather than the standard 2 ¼".
4 branch manifolds, Are also a good idea, people using tsr's manifolds seem to get good results and any improvement on the exhaust side of the 16v is a good choice as the 16v head flows very poor in this area.
Gas flowed head

As above, as the exhaust ports on the 16v head are nearly right angles, the engine responds very well to gas flowing. Gas flowing involves smoothing the ports out to aid flow, and polishing the exhaust ports to prevent carbon build-up. It is not necessary to enlarge the ports much as it slows down the air flow resulting in a loss of torque.
There are a few different 16v head castings. Most of the 1.8 heads have larger inlet ports,but smaller exhaust ports. Most 2l heads are the other way round. Both head perform almost identical when flowed so theres no better option between the two.
VW must of realised the mk2 16vs had a lack of lowdown torque,so they went to smaller ports and inlet manifolds to address this
Gas Flowed Throttle Body

Its also possible to gas flow the throttlebody...
50mm Inlet Manifold
The later spec mk2 golf 16vs came with a larger diameter inlet manifold.
When fitted to replace the standard corrado 42mm manifold, the 16v engine will pull harder at approx 5k. Although theres an increase at 5k, theres a larger decrease in torque up until then, so this mod depends on your driving style.
2000cc conversion
If you have a 1.8cc 16v KR engine code, its possible to change the bottom end to 2.0cc to increase power and torque. 2.0 litre engines can be aquired from 2.0 litre corrado 16vs, & passat 16vs h-reg on. As these have the 9A engine code, they are a direct fit into the 1.8 engine bay.
It is also possible to fit the 2.0cc 16v engine from some audi 80s with the engine code 6A.
To fit the 6A engine, you need to use either a 9A or KR engine code sump and oil pick up pipe, and sometimes you may need a 9A oil filter housing.
The mk3 ABF engine code 16v, is also compatable but the block is an extra 17mm higher, causing clearance issues on the bonnet and steering rack.
KR inlet camshaft
The standard 9A inlet camshaft on the 2.0 litre 16v is very mild and has a power band to 5800rpm and 8.9mm of lift. You can fit an inlet cam from a 1.8 KR 16v, this will increase the power band to 6700rpm and it has 9.6mm of lift hers a pic of the 2 cams,kr on left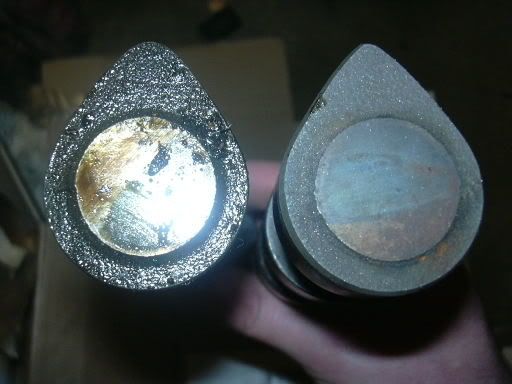 you should be able to see that the lobe on the kr camshaft is wider all the way to the top
Performance camshafts
The only real way to achieve close to 200bhp from a 16v, but pricey at around 500 quid and require top quality cylinder head work to get the most from and possibly a vernier(adjustable) cam sprocket. Cams from brands like "Kent cams" and Piper cams" are not normally recommended for daily drivers, as these seem to shift the power band higher up, increasing the lack of torque and drivability lower down the rev range.
Rolling road tune
It will be necessary to have your car rolling road tuned after you carry out most engine mods. This will allow base ignition timing to be set on the distributor to get the best performance possible from the standard ECU ignition timing map from the fuel you are using. Stealth racing are very highly recommended when tuning the 16v..They can carry out a modification to the warm up regulator to increase fuelling across the rev range. This is normally necessary as 16v engines tend lean out higher up the rev range and also helps to increase power.